autumn and winter women's shoes fashion shoes fabr
Time:2023-04-10 13:49:25 Source: Click:
Extraordinary texture --24/25 autumn and winter women's shoes fashion shoes fabric comprehensive trend prediction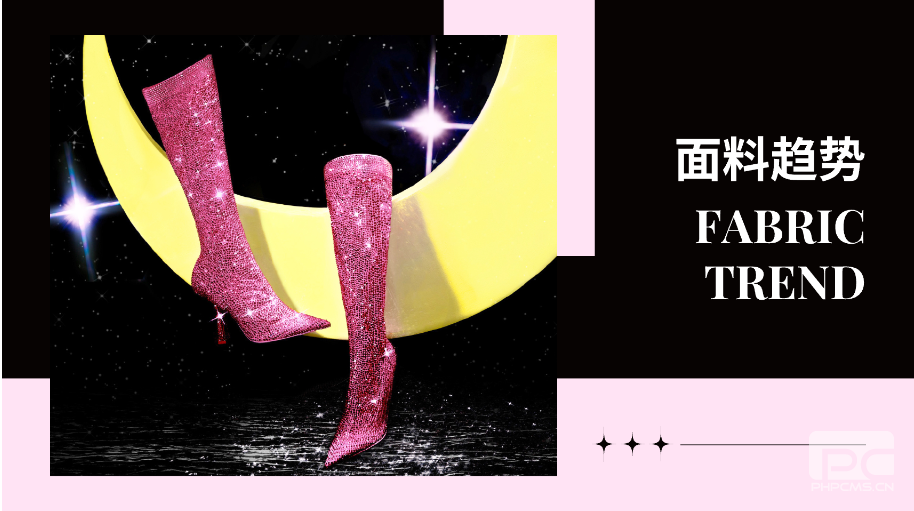 First, the texture of long velvet
Comfortable and warm recycled material plush expansion
Concept: By using post-consumer waste recycled PET made of faux fur, animal hair fibers and recycled synthetic blends and other materials for decoration on the upper of autumn and winter shoes, the fluffy texture brings warmth.
Innovation: In terms of detail processing, plush elements can be used for embellishment, such as adding plush accessories in the toe, shoelace and other positions, or wrapping the heel with plush, which can achieve the effect of plush texture.
Practical application: PLush texture makes autumn and winter fashion shoes more visual effect and wearing feeling, but also can attract the attention of consumers and improve the added value of products.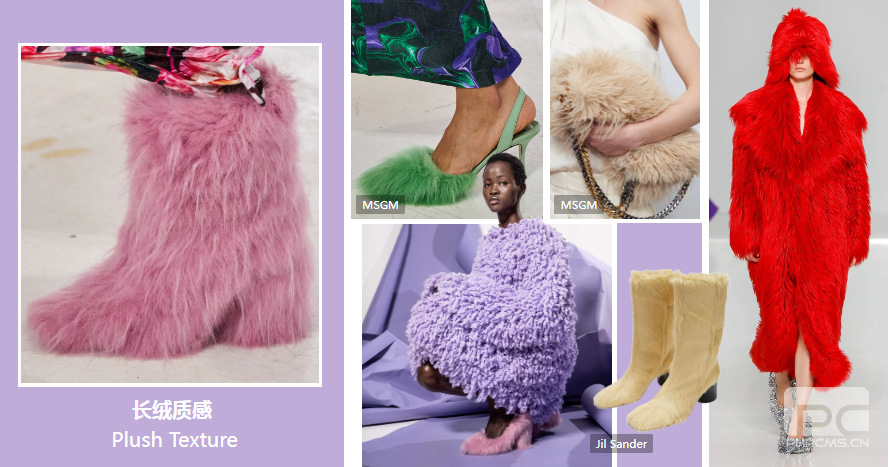 Plush texture - style application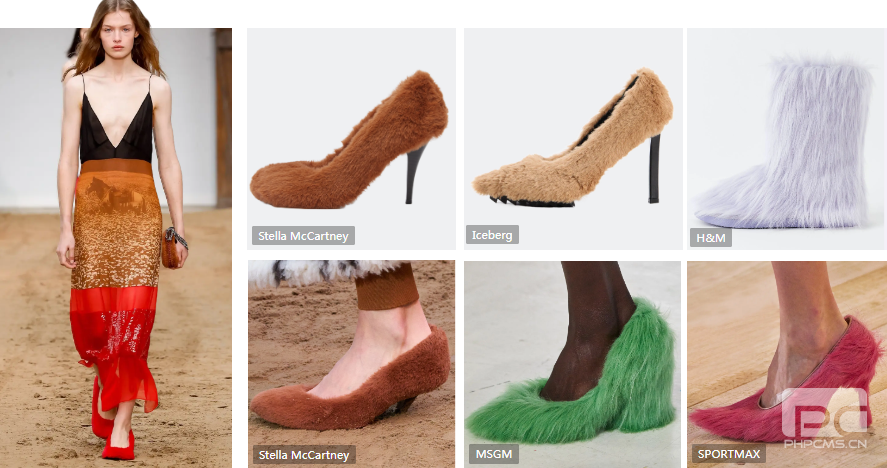 Two, wear tannins
Fashion charm, personality, colorful texture
Concept: Fashion shoes wear tannin material refers to the use of tannin cloth made of shoes, after use and wear, tannin material characteristics make the shoes show a unique texture and visual effect. Tannins are highly sought after in the fashion world for their durability and versatility.
Innovation: Diesel has always been committed to trying more environmentally friendly tannins such as recycled waste tannins. Fashion design will tend to be more environmentally friendly and sustainable.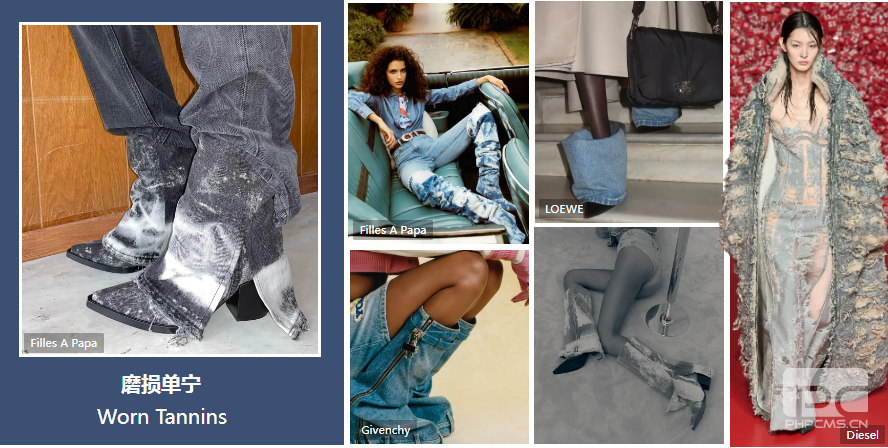 Wear tannins - style application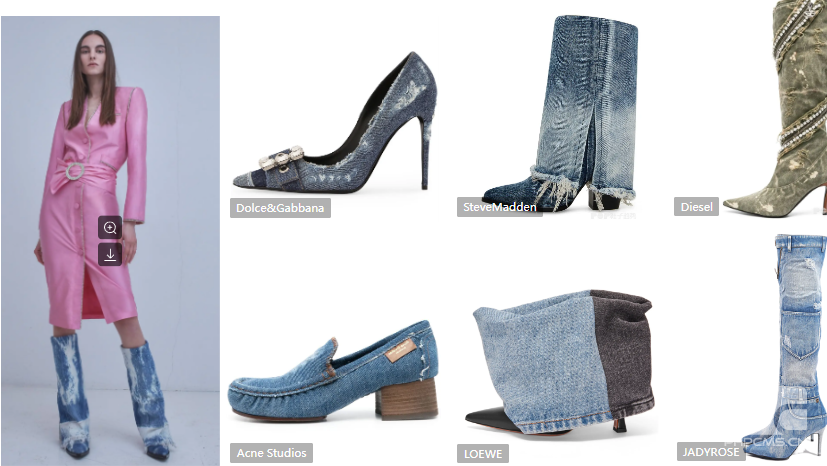 Three, bright drilling surface
Sparkle and splendor in many forms
Concept: Use various forms of diamonds or other shining gems on the upper to increase the luxuriness, fashion sense and high-grade sense of the shoes. It is common to wear shoes in evening, marriage shoes, dinner shoes and other occasions need the shoes of noble breath.
Innovation: The Fall/winter fabric trend uses different shapes of diamonds or other gemstones for shoes, or combines them into unique textures to make the diamonds on shoes more personalized and designed. In addition, diamonds can be combined with other materials, such as leather, metal or fabric, to create a more unique and designed upsole.
Practical APPLICATION: THE APPLICATION OF BRIGHT DRILL SURFACE CAN MAKE SHOES more gorgeous, add confidence and temperament for the wearer at the same time, but also attract EYEballs in formal occasions.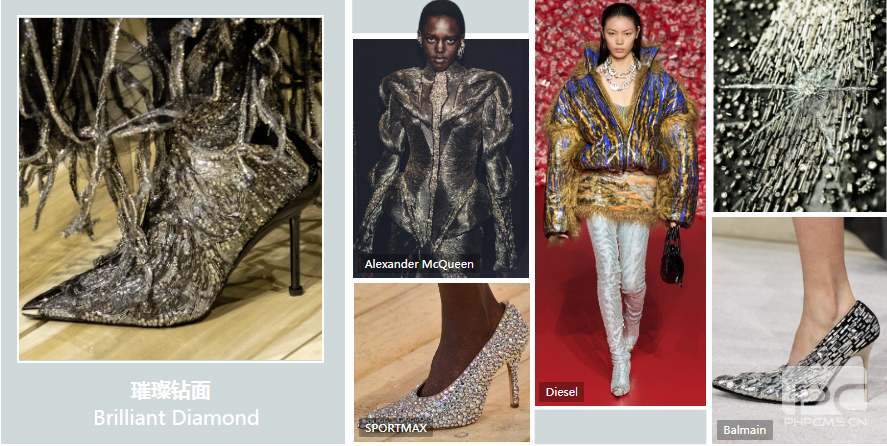 Bright drilling surface - style application

Four, cracked leather
The texture is distinct and the years are mottled and fashionable
Concept: Fashion crack leather on shoes refers to the integration of natural cracks on the leather surface into the design of shoes to create a unique fashion effect. This material not only has the sense of history and nobility of leather, but also has the uniqueness and popularity of fashion design, so it has been widely concerned and loved in the fashion industry.
Innovation: In addition to the traditional leather material, you can also use some different materials, such as artificial leather, canvas, nylon, etc., to create a more distinctive fashion crack effect.
Practical application: The fashion crack leather on shoes is a kind of material with high design value and potential. Through innovative design methods, it can be created to be more unique and personalized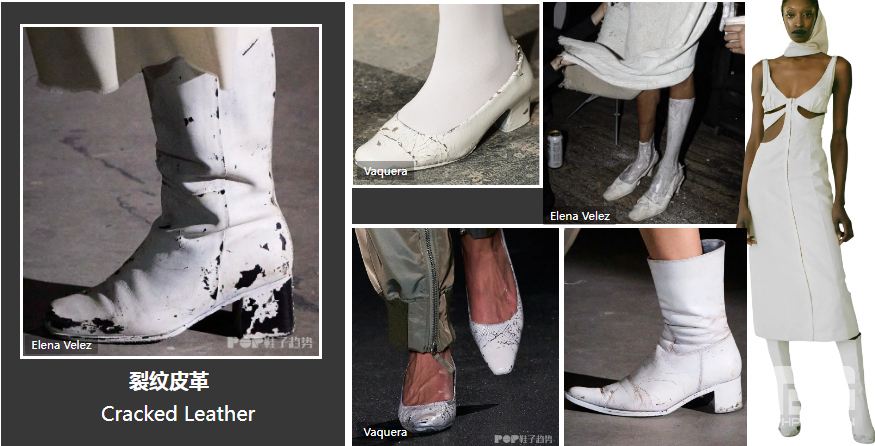 Five, extraordinary wire
Mysterious magic unknown form exquisite compilation
Concept: The shiny surface of the wire has a high reflector, like a gem shimmering with starlight. At the same time, the texture of the wire is very delicate, the feel is extremely soft, as if it is woven from the feathers of an angel. The design of the whole shoe is exquisite, the line is smooth, the shape is beautiful, let a person can not help but marvel at it. Put on these shoes, as if into a world full of mystery and magic, let a person can not extrude themselves.
Innovation: the use of fashion, avant-garde design style, highlighting the cold and metal texture of the material, such as the use of streamlined design, strengthen the line sense of the shoes, so that the shoes are more fashionable and dynamic, with different colors to create a different visual impact effect.
Practical application: in addition to the application of the whole shoe, in the heel, shoelaces and other local details of decoration, can also be used to make uppers pattern, decoration and details, increase the sense of fashion and personalized shoes.
Six, smooth and clean leather
Smooth can reflect the future sense of apathy aura
Concept: MAKE USE OF HIGH quality leather, through processing, coating and other ways to make the surface of the upper smooth, delicate, shiny, show elegant, fashionable effect. This kind of leather uppers is very common in fashion women's shoes design, because of its noble, elegant, delicate characteristics, welcomed by consumers.
Innovation: Bottega Veneta uses new materials, technologies and processes to create unique upps, but can also use high-tech synthetic materials, metal materials or 3D printing technology.
Practical application: Try to integrate more cultural elements or artistic elements into the design of the uppers to create more personalized and innovative works, so as to attract more consumers. At the same time, in order to better meet the needs of consumers, we can also design more diversified uppers according to different seasons and occasions, so as to adapt to the diversified needs and preferences of consumers.